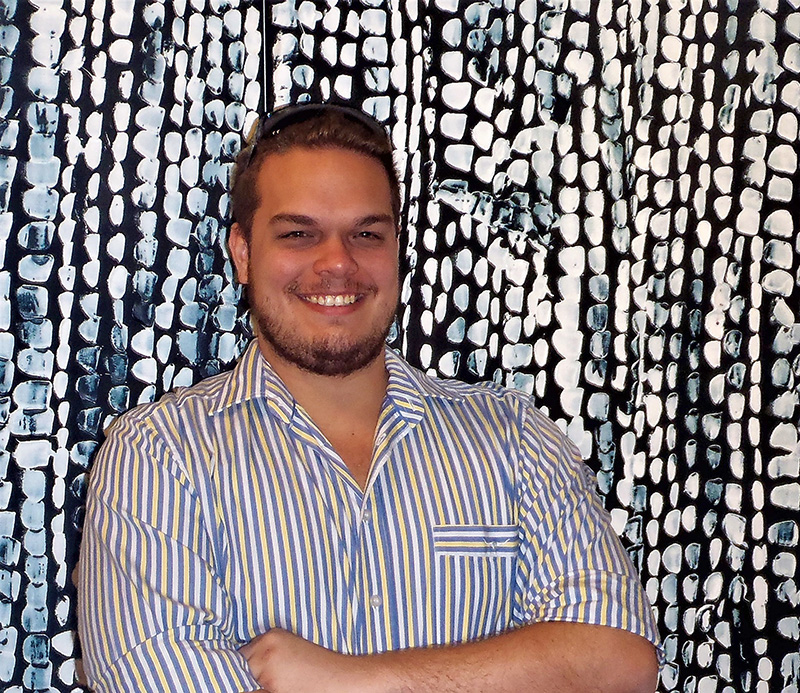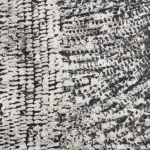 Born-and-bred Darwin artist Joshua Bonson, with no formal training, has exploded onto the national art stage with works in Collections of the National Gallery of Australia, Kerry Stokes and Art Bank, as do many private collections both nationally and internationally.

Joshua is a painter who shares stories of his Indigenous heritage through his work.

Life's been a bit of a rollercoaster ride for the 29-year-old since completing year 12. He only started experimenting with paint in his senior school years, creating textured black-and-white paintings in acrylics in what he describes as a 3D style. 'I try to get a lot off-the-page detail in my work', says Joshua. He applies his paint thickly, creating works that are contemporary in appearance yet embody age-old Indigenous traditions and meanings. 'The idea is to recreate the scales of a saltwater crocodile, which my grandfather told me is my totem. The armoured skin of the reptile is shown by the built-up serrations of the paint and other materials applied by hand or directly from the tube.' But it also works on different levels – 'It can be read as a close-up of a reptile's skin. And as a landscape both seen from a distance and as close-up details of rock's and sand.'

For two years running, at age 18 and 19, Joshua was the youngest ever finalist in the prestigious Telstra National Aboriginal and Torres Strait Islander Award. At 22, he won the Togart Contemporary Art Award in 2011. In 2013 Joshua was again a finalist in the 30th Telstra National Aboriginal and Torres Strait Islander Art Award, Finalist in the City of Albany Art Prize and Winner of the Top End NAIDOC artist of the year. In 2014 Joshua held his first solo exhibition internationally and was awarded the Young Achievers Award NT, Artist of the Year 2014. In 2015, Joshua was awarded a scholarship at Bundanon Trust Artists Retreat, NSW, provided by Ervin Vidor, Director of the Toga Group and a finalist in the Churchie Art Award QLD. When asked if he thinks it's all a bit surreal: to have achieved so much, so young, and with no training on top of high school art. 'If you put it into a list like that: yeah, it is a bit of a shock sometimes', he said. And Joshua's attitude about it all is one of the most enduring things about him. 'I'm usually asked very arty questions by very arty people, and I don't usually give them very arty answers.' He said. 'But I'm learning a lot through those interactions.'

Culture plays an important part in Joshua's life and his art. Through his art, he is trying to rediscover his lost family culture and establish his place within it. 'My great grandmother was from Badu in the Torres Strait islands and her eldest son was my grandfather, Donald Bonson, senior. He is the inspiration for my work. He told me everything is connected, the land, the water and us. Like the crocodile, we are saltwater people with an ancient lineage.'

Joshua also traces his ancestry through his great-great grandmother Dolly Bonson, a Jawoyn woman from Katherine who was also known as Bett-Bett the servant girl featured in We of the Never-Never and The Little Black princess books by Jeannie Gunn.

'Skin' is my identity, pride and place in the world; while paying homage to my heritage."

To see more of Joshua's work or to contact him visit his website.